Similar to a traditional bar, a tap wall is a wall that has taps mounted to it to dispense beer or other beverages. Mounting taps to a wall can save space and offer a unique design. They also can be outfitted with self-pour technology to allow patrons to serve themselves. 
The taps on the tap walls are labeled according to the beverages available. Self-serve technology improves customer service in bars, coffee shops, beer gardens, and other beverage-serving venues, as customers don't have to wait for attendants to get the drinks and then serve them. 
The popularity of wap walls and beer walls has been growing rapidly over the past few years(1). The ability to try and sample multiple beers without committing to purchasing an entire pint, as well as the speed at which customers can serve themselves is driving the success and popularity of these new establishments.
In these modern systems, customers only have to use the accepted payment method to activate the tap, and voila the selected beverage is available to consume.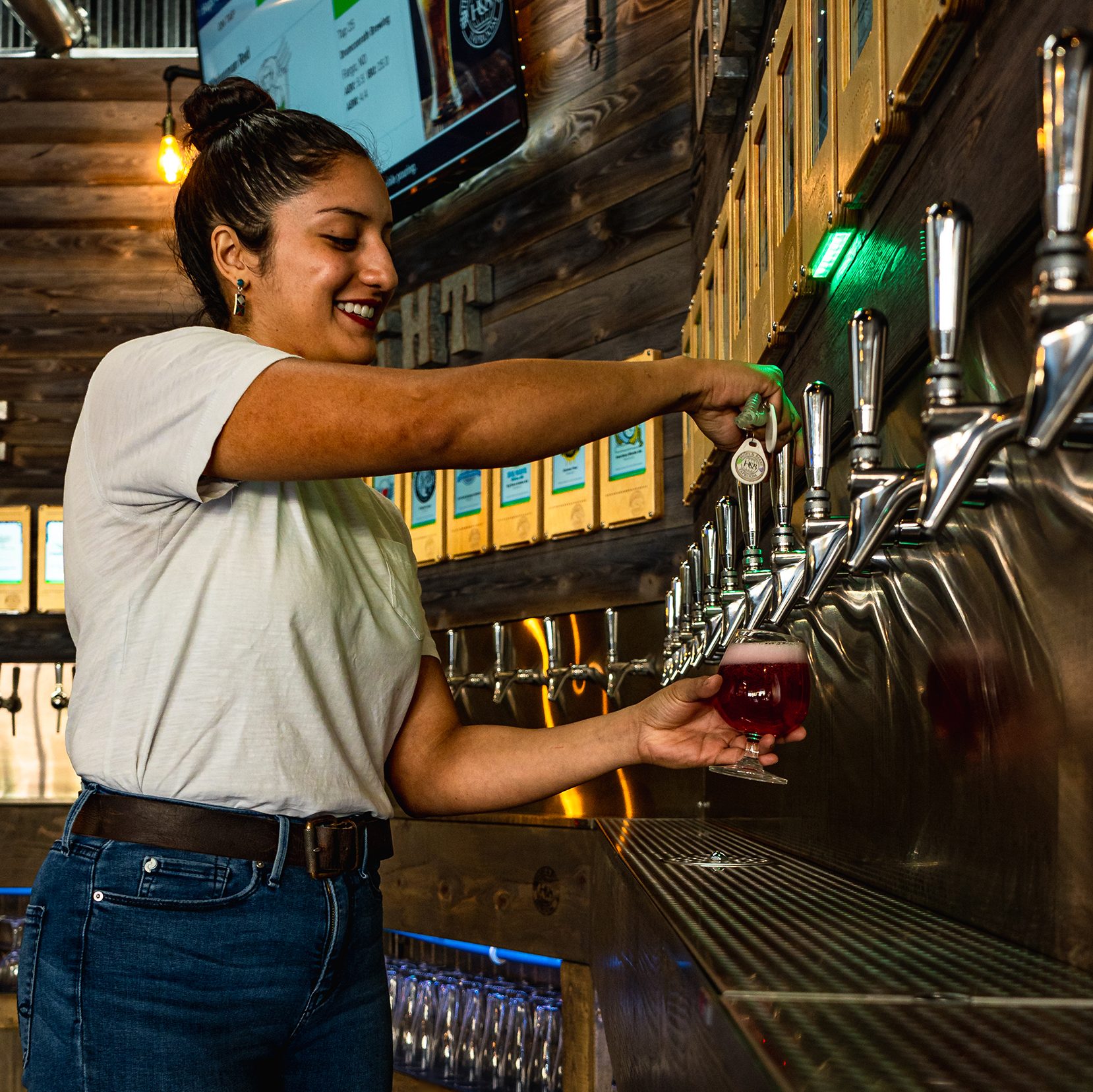 What are Self-Serve Taps?
A self-service or self-pour tap allows customers to choose, pour and pay for a beverage completely on their own. In the world today, self-pour or self-serve tap walls have begun to take over from the traditional way, where you have to wait for someone to pour a drink for you.
How Does a Self-Service Tap Wall Work?
Self-serve beer taps empower beer walls to be used by customers independently thanks to a few different components. There is a flow controller, a screen, an activation station, and a card reader. Check out our full guide: how do self-pour taps work?
What does a Tap Wall Look like?
Beer walls can be themed and decorated in many ways. Check out this new installation by Pourtek at Hops & Berry Taproom in Williston, ND:
Where Can Tap Walls Be Installed?
Aside from beer bars, beer walls or tap walls can be installed in various places. Some of these places include:
Restaurants
Golf Courses
Grocery Stores
Event Venues
Beer Gardens 
Coffee shops
Art Galleries
Hotels
Breweries
Private Yachts
Cruise Ships
Community Centers
Yoga Studios
There is no limit to the locations where self-service app walls can be installed.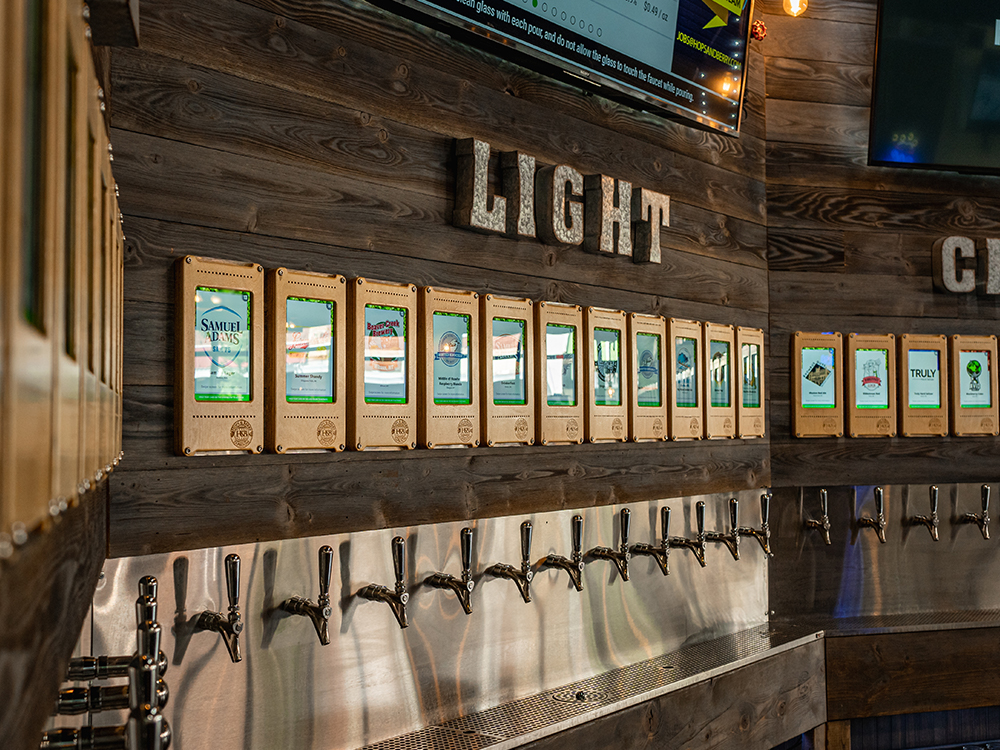 Things to Consider Before Installing a Tap Wall
There are certain things you need to properly plan before installing a beer wall. These things include:
Location  
Adequate Space
Type of Beverages on Sale 
Number of Taps
Access to Glasses
Necessary Licenses 
Signage
Location
Where the beer wall is located in a place is very vital. It has to be where it will immediately catch the eye of a customer. Locations near windows, near the check-in counter, and also in front of the business, are very eye-catching locations for a beer wall to be installed. Additionally, it needs to be on a wall that can accommodate the beer lines and wiring for the screens.
Adequate Space
There should be enough space between the seating area and the beer wall. There should be enough room around the beer wall area for customers to move freely while browsing through the available beverages to taste and serve themselves.
Type of Beverages on Sale
You need to decide the type of beer or beverage you want to make available to the public. Once you have made your choice, you should assign these beverages to the number of taps you want to dispense those beverages.
Number of Taps
The number of taps you want to install largely depends on the business space available to work with and your budget. You also want to know how many self-service screens you want to assign to each tap. Some people assign one screen to multiple taps, which can reduce upfront costs, but it can slow down service and customers' access to popular taps.
Access to Glasses
The location of the serving glasses for customers should be very close to the beer wall. This means the design of the beer wall should accommodate space for the glasses, to make self-service much easier and faster.
Necessary Licenses
All necessary licenses must be acquired from your local governing bodies. This is a very important step in installing beer walls. 
Signage and Interior Design
If you plan to divide or organize your taps by type of drink, you may want to consider signage that you put up to help customers find the beverage they are looking for. Also, any decor or design work you want to incorporate should be considered so that your system can look awesome and function efficiently.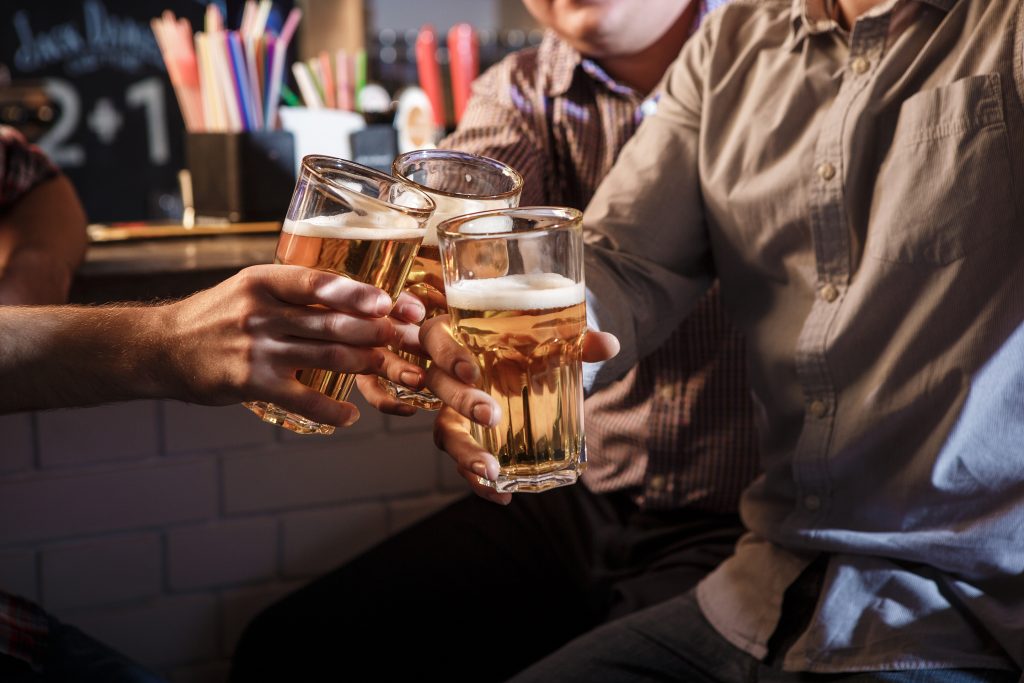 Benefits of a Self-Service Tap Wall 
There are several benefits of integrating the self-service tap wall system into businesses. Market analysts predict significant growth to continue for all interactive kiosk technologies, as consumers drive faster service and business owners seek to reduce expenses(2).
These benefits include:
Significant increase in beverage sales. Customers tend to drink more because of how easy it is for them to pay and get their glasses refilled. With this system, businesses have recorded an increase in profit by almost 50%. There is also decreased overhead by almost 20%.
The amount of beer and beverages normally wasted when is reduced is quite significant. Waste is reduced to less than 4%.
With the self-service tap wall system, the number of staff needed to run day-to-day activities in the business will not be significantly reduced.
As a business owner, once you have installed a self-service tap wall system, you are not restricted to only serving beer. Other beverages like cocktails, Kombucha which kicked off as a novelty, and cold brew which is a more flavorful and less acidic coffee.
Want to build your own Self-Serve Beer Wall?
Contact the team at Pourtek.com for a custom quote! Our system was developed and tested in our own restaurants from the ground up. It's designed to help business owners make more money with fewer headaches than our competitors.
Find out how much your business can save and how fast you can pay off your investment with our payback calculator.
References
Touch-Screen Self-Serve Taps Take Off As Costs Rise For Bars – NPR – https://www.npr.org/2019/11/27/783036724/99-bottles-of-beer-on-the-touch-screen-the-spread-of-self-serve-taps
Interactive Kiosk Market Size is projected to reach USD 42 billion by 2030, growing at a CAGR of 6 % – Straits Research – https://www.globenewswire.com/en/news-release/2022/07/21/2484106/0/en/Interactive-Kiosk-Market-Size-is-projected-to-reach-USD-42-billion-by-2030-growing-at-a-CAGR-of-6-Straits-Research.html