If you have been around the block– or in this case, around the bar, then you may have heard of beer walls and self-pour taps. But how do self-pour taps work?
Self-serve tap systems allow customers to pour as little or as much beer as possible. Guests use a funded card or bracelet to activate the tap and dispense their drink of choice from dedicated taps. They can be configured to dispense wine, cocktails, and even coffee.
Quick, easy and convenient for customers and businesses, self-serve tap systems are a revolutionary innovation in the beverage industry (1). 
Want to know more about self-pour taps and beer walls? Find out how it can benefit customers and business owners with our detailed guide.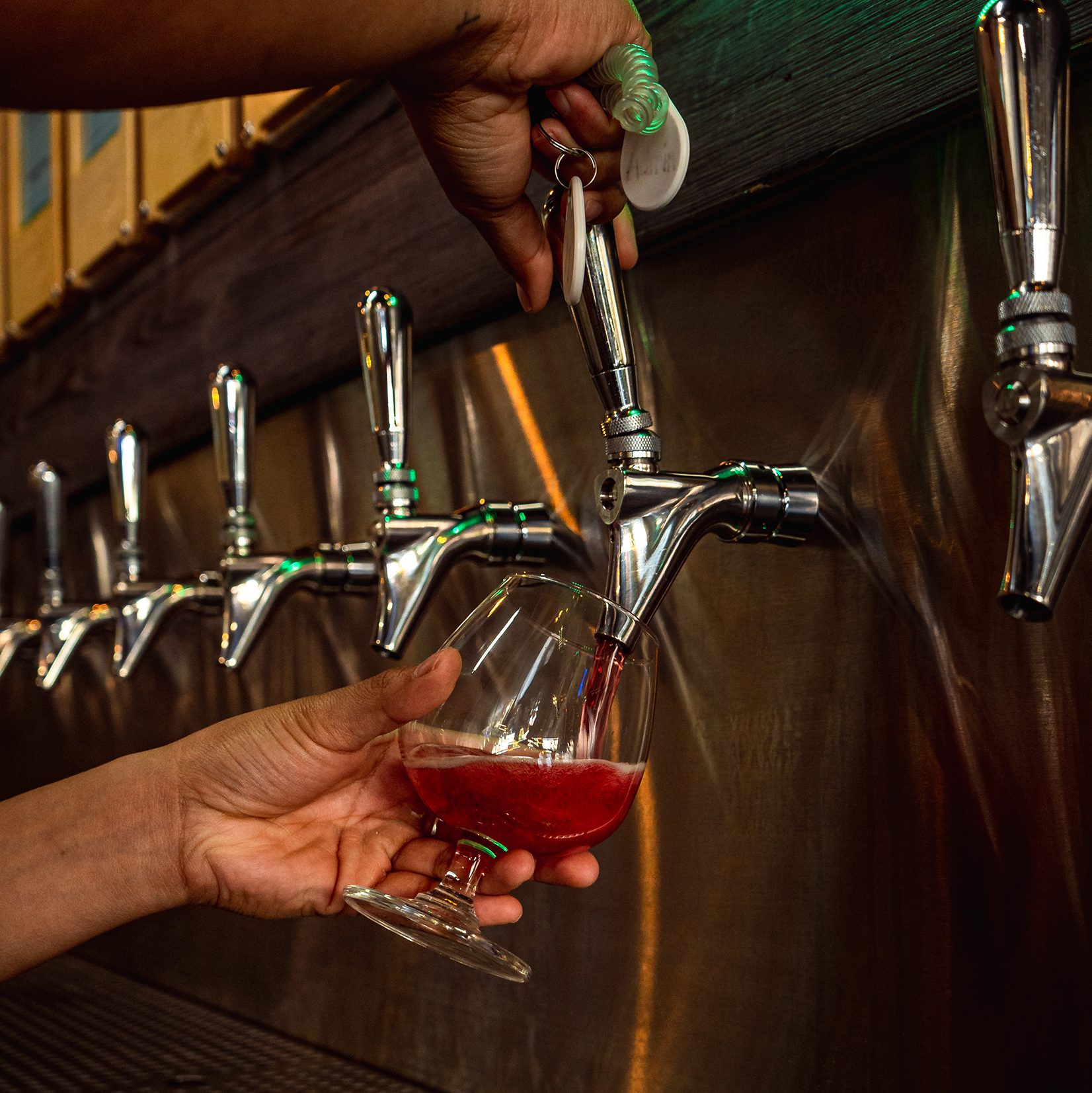 What Are Self-Serve Beer Taps?
Industry experts describe self-serve beer taps as a cutting-edge invention in the restaurant and bar industry that allows customers to seamlessly serve themselves drinks while getting charged by the ounce. 
It's quick, you get direct access to your drink and you pour exactly the same drink every time; no more shouldering through large crowds and fighting for a busy bartender's attention.
What Is Self-pour?
Self-pour refers to a technology that enables guests to dispense their own drinks at a beverage wall or stand-alone kegerator system. It is particularly useful because it eliminates the need for additional staff, and cuts down on waste. Self-pour waste constitutes less than 4% compared to the average loss per keg of 24%.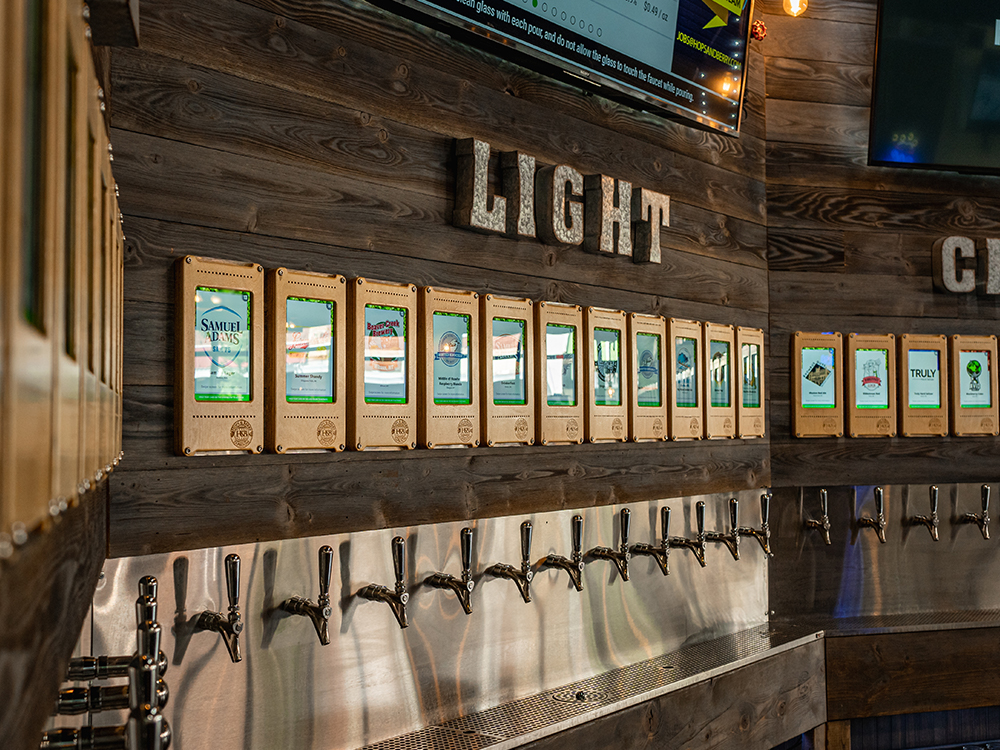 How Do Self-Serve Systems Work?
While self-serve systems come in different types, they generally utilize the same components and work with the same processes. 
Self-serve systems operate by using radio frequency identification cards (RFIDs) or bracelets that link to a credit card. The RFID unlocks the tap and allows the patron to pour their beverage of choice. Customers can serve as much or as little as they please.
Most self-pour technology is actually just an ad on to an existing draft beer system's components. Self-serving beverage systems consist of and add these parts to a draft system: 
The Flow Controller
The flow controller is the most obvious component of a self-serve system. It determines who can access the taps and tracks how much beverage has been dispensed. 
Two other components called the flow meter and valve are inserted into the beer line, which is often beneath the tap. The flow controller uses the readings from the flow meter to track how much beer is dispensed. 
The flow controller is also responsible for opening the valve when a customer initiates a dispense. It also helps to minimize loss and accurately dispense beer to the customer's required measure. 
This component alone is a huge asset to small and big businesses alike, as it cuts down spills from manual service.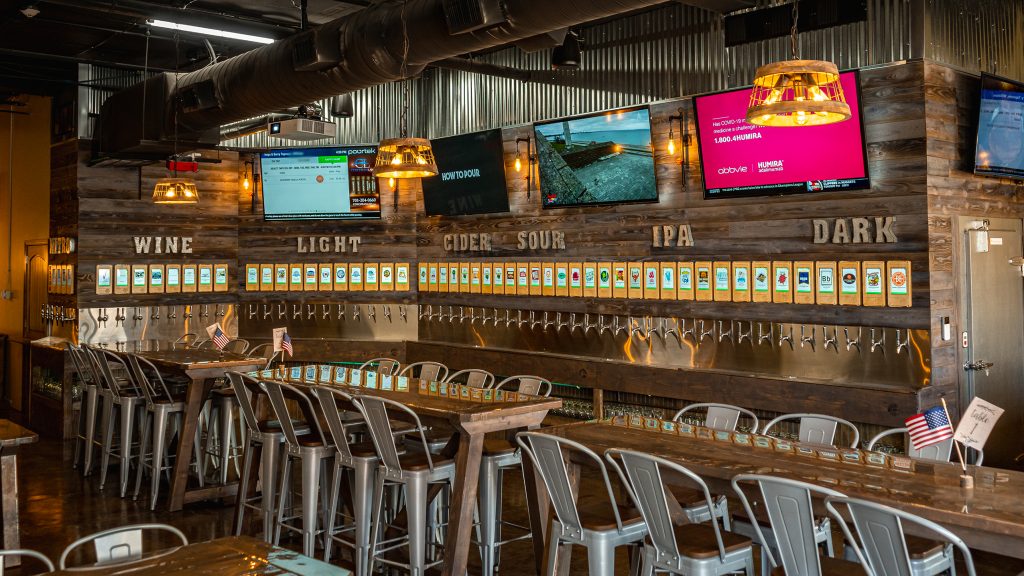 The RFID Card Reader/Contactless Bank Card Reader
A radio frequency identification reader (RFID) is a device that is used to process information from an RFID tag, which in turn is used to track individual objects. AB&R says that RFIDs belong to a group called AIDC methods. They identify, collect data, and enter the data directly into computer systems (2).

Within a Self-Pour System, taps are activated by using a card, token, bracelet, or whatever the venue would like to put an RFID inside.
The Screen
In self-serve beer systems, the screen can display a bar's branding as well as the beverage being served from the specific tap. It also tells the customer how much they would have to pay, and how much funds are left on their RFID cards.
Some self-serve beer systems are fitted with up to four taps per screen. Some bars and cafeterias use these screens to play promotional videos even when beverages are not being dispensed.
The Point of Sale System
The point of sale system, or POS system, usually sits behind the bar, but Pourtek's system eliminates the need for a bulky, stationary setup and can be operated by handheld mobile devices. This allows one staff member the freedom to help customers choose a beverage one minute and help someone pay their tab the next.
The system is often connected to another RFID card reader that is used to activate beer cards or load them with credit. These systems are controlled and tracked from a central server
Types of Self-Service Beer Systems.
Self-serve beer taps and beverage systems offer two main types of products:
Built-In Tap Walls/Fixed Tap Walls
Built-in tap walls, or fixed tap walls, are stationary taps that are built into a venue along the wall or counters. They are customizable and built securely into the bar. Installations can be simple or beautiful works of art.
Mobile Self Pour Stations/Mobile Beer Dispensers
Mobile self-pour stations are portable, completely self-contained tap systems. The added flexibility means that they can be moved from one space to another for convenience and they don't require any build-out or installation.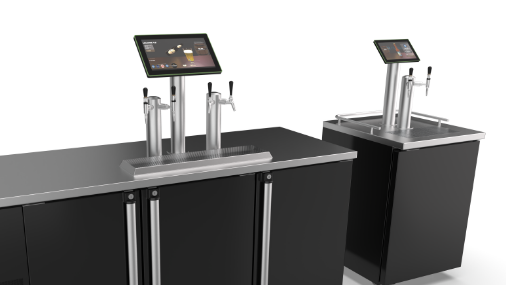 How Do Self-Serve Beer Tap Systems Work For Customers?
Self-service taps are almost always a win-win for businesses and customers. For one, they get exactly what they want, how they want it.
When it comes to self-service beer systems, customers first meet the seamless process of checking in at the bar and getting their RFID cards before dispensing beer from any of the beer walls. 
All a customer has to do it place their RFID cards in the assigned port, or tap their wristbands on the screen, choose the type of beverage they want, open the tap and pour.
Here are a few ways self-serve beer tap systems ease the bartending process for guests:
Accurately measured beverages: Automated beer dispensaries do a much better job at dispensing accurate amounts of beer to customers. With a standard self-serve system, customers get served exactly what they pay for.
Beverage freedom: Self-pour beverage taps give customers the liberty to pour whatever they want, however they want, and whenever they want it. Guests can try every kind of drink by the ounce and get a detailed receipt of their pours by the end of the night.
Fast Service: Self-serve systems cut down wait times. Customers can expect to walk into a bar and pour themselves a cold drink almost immediately. 
Self-serve systems are fast and reliable. They eliminate the long, frustrating processes that are usually involved in getting beer from traditional tap rooms. From keg to glass, self-serve systems get rid of any unnecessary middlemen so it's just you and your drink.
Benefits of Self-Serve Beer Tap System For Businesses?
Reduced waste: Self-serve beer systems cut down losses from spills and unaccounted sales. The loss margin ranges anywhere from 5% up to 50% in the retail industry. With a self-serve system in your bar or restaurant, every drop that runs out of the tap is paid for.
Less money is spent on staffing: Staffing in bars and restaurants is a big cost of doing business. Self-serve systems eradicate this problem by allowing customers to serve themselves. By using self-serve systems, actual staff can work on higher-value tasks while the systems do the bartending.
Improved Customer experience: The screens in self-serve systems can be used to show promotions and customer-facing advertisements as well as unique animations. These features add to the experience and give businesses an avenue to advertise directly to the targeted customer.
More restaurants and bars are moving away from traditional taps and adopting self-serve beer systems. Self-serve systems are a win-win situation for customers and businesses.
Find out why Pourtek is the best option for those looking to add self-pour technology to their business or build an epic beer wall.
References
Why the Self-Pour Beer Revolution is Here to Stay – Samantha Lefave – https://www.mic.com/articles/188123/why-the-self-pour-beer-bar-revolution-is-here-to-stay
What is RFID and How Does RFID Work? – AB&R – https://www.abr.com/what-is-rfid-how-does-rfid-work/