Cocktails on tap might be a new concept, but it's taking the industry by storm. Is it good? What do you need to know as a business? Bars everywhere are starting to introduce this new concept as a way to cut down on costs, help keep drinks delicious and consistent – even on busy nights – and reduce crowds so customers can have a better night out on the town. 
While the most popular cocktails from Pourtek are starting to debut all across North Carolina and beyond, there are still so many questions about the process that it can be intimidating for bar managers and owners to make the switch. Are the most popular cocktails available on tap, or should you look into creating your own kegs? 
In this article from Pourtek, you'll learn everything you need to know about this new trend of kegging cocktails for a more reliable product that keeps customers coming back for more without the frustration of flagging down a distracted bartender for minutes on end because they are making the next drink.
WHAT ARE COCKTAILS ON TAP?
Cocktails on tap are a revolutionary concept to the bartender world, taking an old concept and mixing it together with new technology and ideas. (1) With crowded bars becoming less of an attractive option for customers who just want to sit down with a good drink, bartenders and bar owners knew something needed to change about the customer service they were providing. 
What was limiting these bars from serving these customers the same quality as those who got there early enough to get a seat up front? Their ability to make drinks quickly. 
Cocktails are becoming more popular as a nighttime reprieve, which means bartenders are now taking an average of 2-4 minutes to make a single drink. Not only does this leave the bartender scrambling, as they walk into their shift already behind on making drinks, but it leaves thirsty customers frustrated as they wait far too long to put in their order or get their drink.
In a nutshell, cocktails on tap are faster and cheaper. On busy nights, when you have to fight your way through the crowd just to try to flag down the bartender, cocktails on tap mean you get your drinks faster. -Huffpost
Cocktails on tap is a revolutionary solution to this problem that allows bartenders to better serve thirsty customers while putting their most popular cocktails on draft, taking a drink that takes 3 or 4 minutes to serve down to a 3 or 4-second drink.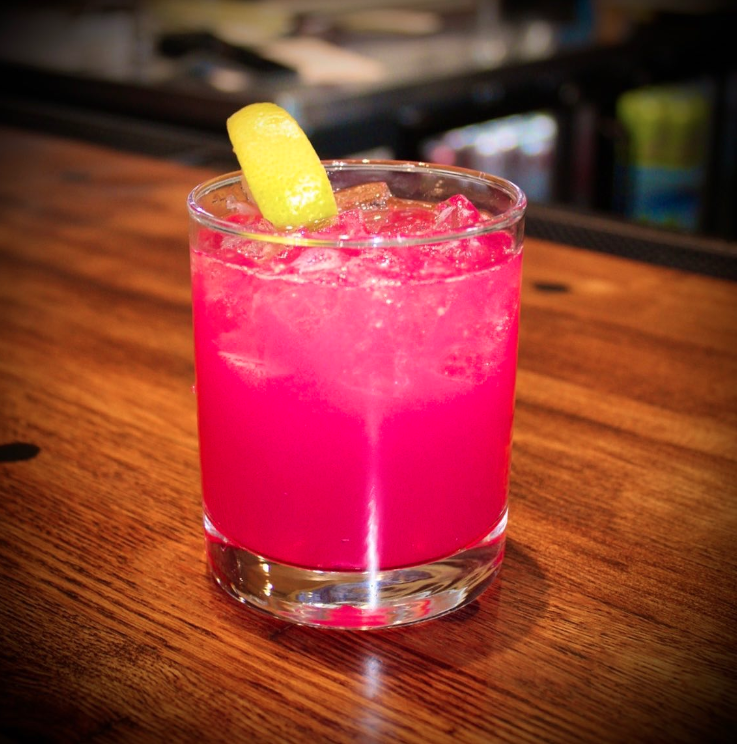 ARE COCKTAILS ON TAP GOOD?
Yes, once the ratios are perfected, cocktails on tap are good. The ability to keg a cocktail creates a delicious product that can be enjoyed at any point during the night. Alcohol is a tricky chemistry problem to master, and it can take a long time to perfect the ratios to create a good-tasting drink that delivers a reliable punch.
Beyond giving bartenders their time and attention back to better accommodate the customers in front of them, kegging the most popular cocktails allows customers to enjoy a high-quality product with a consistent taste from glass to glass.
Because of this, customers are more likely to return or get a second glass because they know it can be served quickly and the taste won't change based on how busy the bartender is at the time.
This increases the profit margins of the bar and allows the bartender to provide better customer service, improving customer retention and satisfaction at the same time. Furthermore, the bartender can serve a greater number of people at the same time, making it one of the most efficient ways to increase profits and ROI.
BENEFITS OF COCKTAILS ON TAP FOR BUSINESS
A lot of business owners are now looking at cocktails on tap because their most popular cocktails are taking too long to make. (2) Not only does this increase the wait for customers, but the rushed servers are more likely to make a mistake with the ratios and provide a product that isn't as reliable or consistent to the customer.
"We took a four-minute build into three seconds, and it increased our volumes while also decreasing our lost goods," – Forbes
Increased Profits – The option to put the bar's most popular cocktails on tap gives customers a more consistent and reliable product at a much faster rate. This allows bartenders to make the less common drinks by hand, while providing the bulk of the night's options from draft. Ultimately, the bar's profits increase as more people are served throughout the night and more orders are placed.
Product Sampling – Changing the ratios of the drink and maintaining consistency is difficult, which is why most cocktails aren't offered as a sample. Fewer customers will try that cocktail before they know they like the quality or taste without the option of product sampling. With the ease of kegging cocktails, however, bartenders now have the option to offer product samples.
Faster Service – Kegging cocktails allows bartenders to keep track of drink orders on busy nights, pouring delicious, consistent-tasting cocktails in a matter of seconds compared to the typical 2-5 minutes depending on the drink. This faster service improves customer satisfaction and allows the bartender to capture more profits overall throughout the night as more drinks are being served.
Product Consistency – Putting the most popular cocktails on tap keeps the quality and taste of each cocktail consistent, keeping customers satisfied even on busy nights. Customers are more likely to return for another drink if they know it will be fast and delicious, just like the previous glass.
Option for Carbonation – Kegging cocktails gives bartenders the option to carbonate the drink, which might not be possible for a hand-mixed drink otherwise. While this isn't necessarily the right choice for every cocktail, it gives customers a unique twist on a classic, and more options that are fast, delicious, and able to be sampled allows customers to explore their drink options a little more.
HOW LONG DO KEG COCKTAILS LAST?
Keg cocktails last the longest when they are kept cold, often staying stable with a consistent taste and quality for one to two weeks. Chances are, by kegging your most popular cocktails, you aren't likely to need it to last that long. Kegs contain plenty of servings for a few days at the bar, but the tap can run dry if the cocktail is particularly favored by the local clientele.
When creating your cocktail mix, it is critical that the conditions inside the keg are favorable for keeping the liquid consistent.
Before the solution is mixed inside the keg, you should ensure that it is properly cleaned and dried. Skipping or cutting corners with any part of the cleaning step can lead to impurities in the keg that imparts an off-putting flavor in the final product.
Once the cocktail mix is kegged, remove as much oxygen as possible from the keg before tapping it. Keeping the conditions inside the keg anaerobic, or without oxygen, will prevent the mixture from chemically changing while it sits. 
WHAT ARE THE BEST COCKTAILS TO KEG?
Compared to beer, cocktails are incredibly easy to keg and offer customers a wider variety of flavors. Ultimately, the best cocktails to keg are the ones that your bar sells the most. 
The kind of cocktails kegged will be different from bar to bar, but overall, there are fan favorites that never seem to go out of style:
Moscow Mule
Old Fashioned
Paloma
Margarita
Nitro Margarita
Nitro White Russian
Sangria
Vodka Cranberry
By kegging the most popular cocktails, you ensure that your clients have a wider variety to choose from and the ability to pour samples encourages them to try something new. You can also put bar originals on tap to create a special draft of the week or month for a little added creativity and fun in the bar environment.
Because the cocktails on tap vary so greatly from one bar to another, it's important to be able to set up a system that makes it easy for bartenders to pour a new cocktail without needing to run any additional lines for the tap. Pourtek makes this easy with a mobile, self-serve kegerator that can keep your bar running as smooth as possible.
WHICH COCKTAILS SHOULD YOU AVOID KEGGING?
While you can keg a lot of the most popular cocktails, it's important to care for the individual drink's needs as well. Kegging a cocktail that has specific requirements might not be the best way to ensure it stays stable with a consistent taste for as long as possible.
For example, if the cocktail requires juice, keep in mind that any sediments will be settling to the bottom of the keg and may not make it into the final cocktail's flavor profile. To get around this, you should only use juices that have been clarified first. 
Determine what temperatures you can store the kegged cocktails in, and only keg cocktails that do well in those temperatures. 
Another important thing to keep in mind is that it's difficult to keg a cocktail and retain its taste if the cocktail requires shaking. Shaken drinks typically rely on the fresh-shaken mixture of all the ingredients. There is an exception to this, with drinks that don't have differently weighted liquids. If they don't separate naturally and instead mix together seamlessly – or have an ingredient that binds it all together – then you can keg the cocktail without worrying about the final product quality.
Kegging the most popular cocktails in your bar doesn't have to be difficult, expensive, or time-consuming. 
For a unique, efficient, and quality system, choose Pourtek systems. The sleek designs allow you to keg any kind of drink to increase revenue and reduce labor costs all within a self-serve model that makes sense. 
With Pourtek, you don't need any other equipment outside of the fully-functional, portable system itself. Not only does this save you and your team time, but it is priced in a way that encourages the use of new technology with a quick ROI.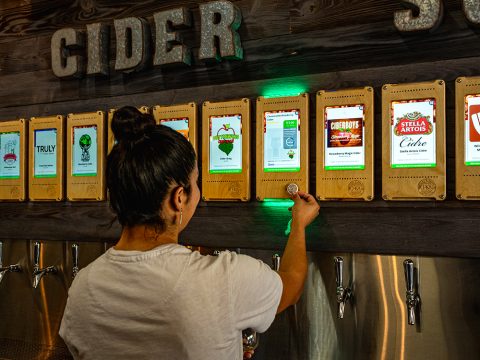 Batching cocktails is when you mix a large quantity for a crowd; in this case, you will be kegging it for later, so you don't have to worry about it spoiling. If you are doing the mixes in-house, it's important to try it out a few times to make sure you get the ratios down first. Batching cocktails isn't a new concept, but it's the first time it's been introduced on a commercial scale that makes sense for bars.
It is important to get the ratios of sugar (juice) and alcohol correct, and to ensure they stay mixed and provide a consistent flavor for the duration that it keeps. It is also important to avoid anything that will water the mix down directly inside the keg, such as ice. 
With Pourtek, the keg will be stored at a certain temperature as-is, without needing to run any additional lines or install refrigeration solutions. Instead, ice can be added to each glass before pouring if preferred.
WHAT IS THE FUTURE OF COCKTAILS ON TAP?
The future of cocktails on tap is looking bright, and more customers are asking for it at their local bars as the idea spreads. While the hand-mixed drink isn't going anywhere anytime soon, it provides customers with the option of a great-tasting, consistent product for the most popular cocktails. 
Within the next ten years, it is estimated that draft cocktails will be commonplace in most bars for the basic range of popular cocktails. Putting the right ratios of liquor and sugar together on tap will take a little bit of innovation and expertise on behalf of the bar, but with a little help from Pourtek, it's easy to be on the bell-curve of a new trend that is taking the drinking scene by storm. 
If you are thinking about incorporating keg cocktails into your bar, you are certain to drive more salts and profits with less staff; a critical component to keeping any business alive and thriving in today's world of labor shortages. Request a quote today or talk to an expert from Pourtek to learn more about the system. 
POURTEK: HELPING YOU NAVIGATE SELF-SERVE BEVERAGE SYSTEMS
At Pourtek, you will find everything you need to know about self-serve beverage systems. Whether you are looking for a little bit of ingenuity, need a few ideas about how to keep your business pouring drinks, or just looking for some ideas, we can help you find it. 
Many bars understand that the number one thing that will lose customers for your business is a long line. On crowded nights, however, there's not much that you can do about it if you want to maintain the quality of your drinks.
Or is there? Let your customers skip the line and have a reliable, quality drink while they're at it. 
Serving the most popular cocktails on tap doesn't have to be a difficult venture. Let's talk about how a completely mobile system from Pourtek – coupled with quality equipment and innovative design – can help improve your customer's experience and streamline workflow for your employees. 
Request a quote today or get in touch to learn more about our system in just a few, easy steps. As a North Carolina-based company, we are at the heart of beverage production and distribution, and we're glad to be adding a dash of innovation to the industry. 
References:
Huffpost, Cocktails on Tap are Revolutionizing Drinking, https://www.huffpost.com/entry/cocktails-on-tap_n_5432119
Forbes, Twin Brothers Hope to Revolutionize Cocktail-Making at Bars with Their Draft Kegs, https://www.forbes.com/sites/jeanettehurt/2022/07/07/twin-brothers-hope-to-revolutionize-cocktails-with-their-ready-to-drink-kegs/?sh=9be7bfc6ecab