Self-pour beer systems are beneficial for bars and restaurants as well as customers. Customers get to avoid the stress of struggling to get a drink from a busy bartender and businesses avoid waste and staffing challenges. 
More restaurants, pubs, and bars are moving from traditional beer-pouring methods to self-serve beer systems(1). What is the cost of this shift and what should business owners expect when budgeting for self-pour beer systems?
How much does a Self-Pour Beer System cost? Explore all your options and the potential ROI.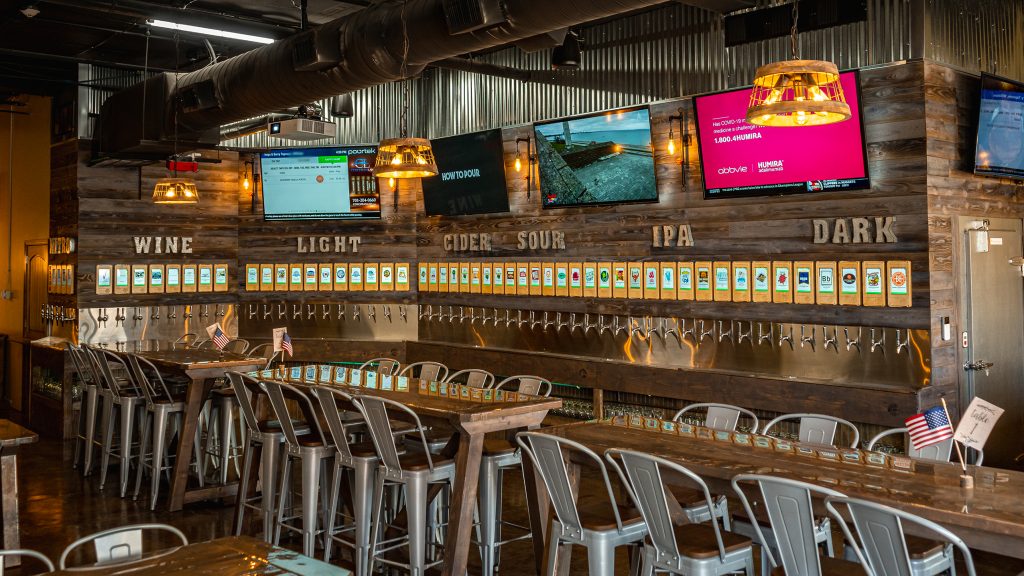 Self-Pour Technology Pricing
Self-serve beer systems are made up of several different parts and the size and scope of each influence the price of a system. Self Pour Technology is added on top of a new or existing draft beer system. Installation of a draft system is typically performed by local companies specializing in draft systems and prices run about $700-$1000 per tap installed (2).
Different self-serve beer system companies come with their prices but business owners should expect to budget for the following things.
Fixed costs ($2100 – $3500): Self-serve beer taps come at varying prices. Aside from that, there are several fixed costs. Business owners need to take note of the costs of cabinets, the onsite server, and network equipment. These costs are pay-once, keep forever and range from $2100 for a few taps to $3500 for larger projects.
Table Units ($1,000 – $9,000): Taps installed on tables are convenient for customers. Table units come with mounted screens, a flow controller and RFID reader. Self-serve tables are practical and efficient for restaurants to get started with self-pour systems.
Beer wall taps ($1,300 per tap): Beer walls can cover the length of an entire establishment as they can be installed on virtually any wall. Beer wall systems come in several taps per screen and can range from two to four taps per screen. Two taps per screen may be the more affordable option, but that will surely limit customer experience. Again, different companies have their pricing systems but beer wall taps could cost up to $1300 per tap.
Administration monitor / full EPOS ($350 – $3,000): Staff needs an avenue to oversee operations when it comes to self-serve beer systems. This administrative system could be a mobile device or a full workstation for management. The price for a full EPOS system with a cash drawer and card reader ranges from up to $3,000 for self-serve beer system companies like PourMyBeer. EPOS systems come with a monthly license and support fees.
Network cabling and power sockets ($0 – $4,500): You can't have self-pour beer systems without power and data sockets. Some restaurants have the cabling set up already. However, when they don't, cabling work is necessary. 
According to Fixr, the average price of installing a proper hardwired computer network in an establishment ranges from $2,500 to $4,500. The pricing may also depend on the individual contractor.
Running beer lines ($0 – $1000 per beer line): Many restaurants and bars have fixed beer lines, which works well when it comes to installing self-pour beer systems. Running new lines and installing new cellar equipment generally costs more. 
BlogBar states that 12-tap systems are usually priced at $4,000 ($5,500 including glycol) and can cost as much as $12,000 for deluxe models. Business owners are expected to budget around $1,000 per beer line.
License & support fees ($21 per month per tap and above): not all companies require you to pay for this but, if they do, monthly and annual support fees cover the use of the technology and any tech support needed. This includes updates and enhancements. The fees start at about $21 per month per tap.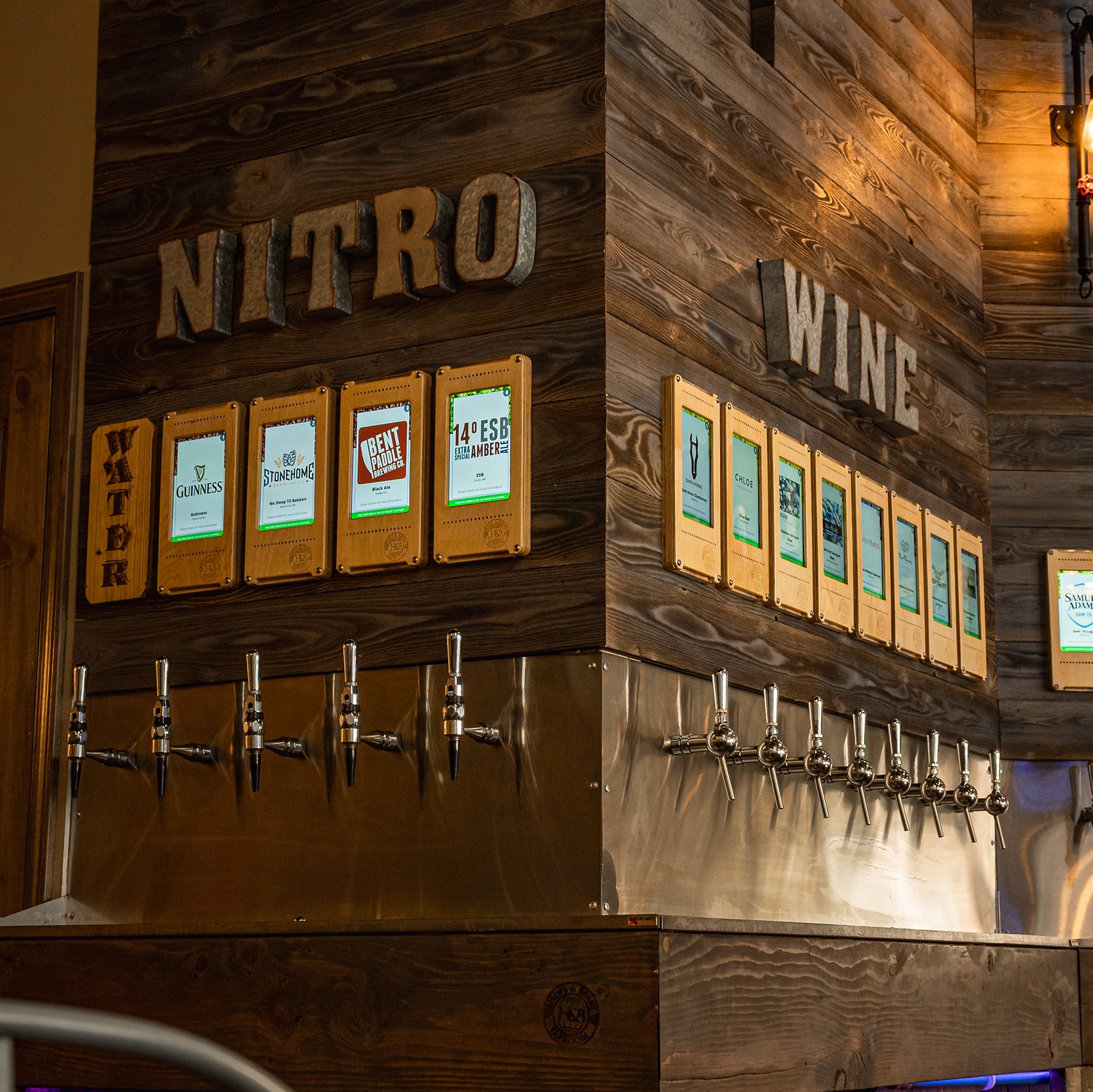 What's Included and What's Not
This depends on the company you contract to install your self-pour beer system. However, it's good to note that your establishment should have some things before you spring for self-service technology. Here's what most companies include and do not include;
What's Not Included
Draft system: Every bar needs a draft system and if your bar doesn't already have one, how are you operating? Self-serve beverage technology works on whatever drinks can be put in kegs so if you have draft equipment already installed, you won't need it again. Self-serve beer system companies work with the installations you have on the ground.
Point-of-Sale System: It is recommended that you already have an existing point-of-sale (POS) system for your establishment. Your self-pour system can integrate with your POS system for a seamless experience.
What's Included
Interactive Touchscreens: A self-pour system needs a screen to function. Companies offer interactive touch screens to go with their systems. These screens often display beverage logos, offer customers pouring tips, and display pricing. Business owners are also free to upload advertising and promotion videos as the screensaver. One screen can control as many as 4 taps.
RFID Wristbands, Touchless Tap Keys, or Cards: Self-serve beer technology companies are likely to have specially designed RFID cards or wristbands to come with their technology. Some offer affiliated RFID technology companies to work with but it is far more likely that they will come coupled with theirs.
Staff Control Devices: Staff control devices allow venue staff to control the system. Staff can open new customer sessions, program RFID cards, close drink sessions, adjust pricing, etc. If there is a designated space in an establishment for this, the self-serve beer contractor will add the necessary equipment.
Battery Free Power Over Ethernet (PoE) Technology: Industry leaders like Pourtek use PoE technology allows a single cable to provide both data connection and electric power to each tap screen – no batteries required and less cable to be run. This allows for a hassle-free plug-and-play installation and set-up, and it eliminates network connection issues and messy wiring.
How Much Does A Self-Serve Beverage Wall Cost?
The price of self-serve beer wall systems ranges from $800 for mobile kegerators to $1,300 per tap for built-in beer walls.
Some companies will offer a fixed price for the first wall and then a lowered price each for additional taps.
Other Options Available to Businesses
Mobile kegerator: Mobile systems are great for restaurants on the go. It benefits small events such as conferences and parties and small establishments that don't have much wall space. They are portable and easy to operate and don't require an expensive build-out. The price for mobile beer tables ranges from $3,000 to $4,000
How Long Does It Take To Install A Beverage Wall?
According to most vendors, a typical installation takes 1 day per 10 taps. So, a 30-tap system may take 3 days to install and a 20-tap beer wall can take up to 2 days to install.
Of course, this depends on design and site circumstances but a 1 day per 10 taps installation is the general rule of thumb.
How Fast Can a Self-Serve Beer Wall Pay for Itself?
Between the reduction in staffing cost, loss of inventory, and customer wait times, a self-pour system can pay for itself faster than you think(3). Check out our calculator to find out how much self-pour could save you.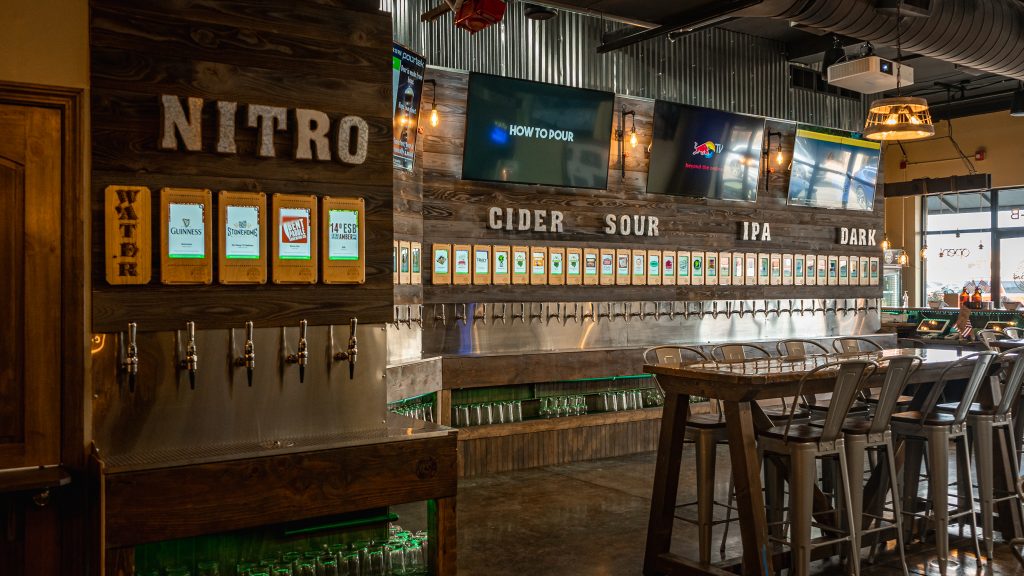 Ready to Build Your Perfect Self-Serve Beverage System?
Get a custom quote and recommendations from the experienced team at Pourtek. Let us help you design the perfect self-serve beer tap system for your establishment based on your needs. Contact us today!
References
Grace Dickinson, Is a Self-Serve Beer and Wine Tap System Right for Your Restaurant? Here's How They Work – https://backofhouse.io/stories/is-a-self-serve-beer-and-wine-tap-system-right-for-your-restaurant-heres-how
What Are the Costs to Install a Draught System? – Jamie Edwards – https://blog.bar-i.com/what-is-the-cost-of-a-draft-beer-system-for-a-bar
Parija Kavilanz, Self-Service Beer Taps Coming Your Way – https://money.cnn.com/2015/01/16/smallbusiness/beer-self-service/