If you're reading this article you probably love experimenting with mixing your won drinks just as much as we do. But when it comes down to the most popular cocktails, nothing beats the classics.
So if you're preparing for a party or trying to expand your repertoire, it's useful to know a thing or two about the most popular cocktails so you can whip them up when the occasion calls for it. 
With that said, let's turn our attention to the most popular cocktails and their recipes below. 
Mojito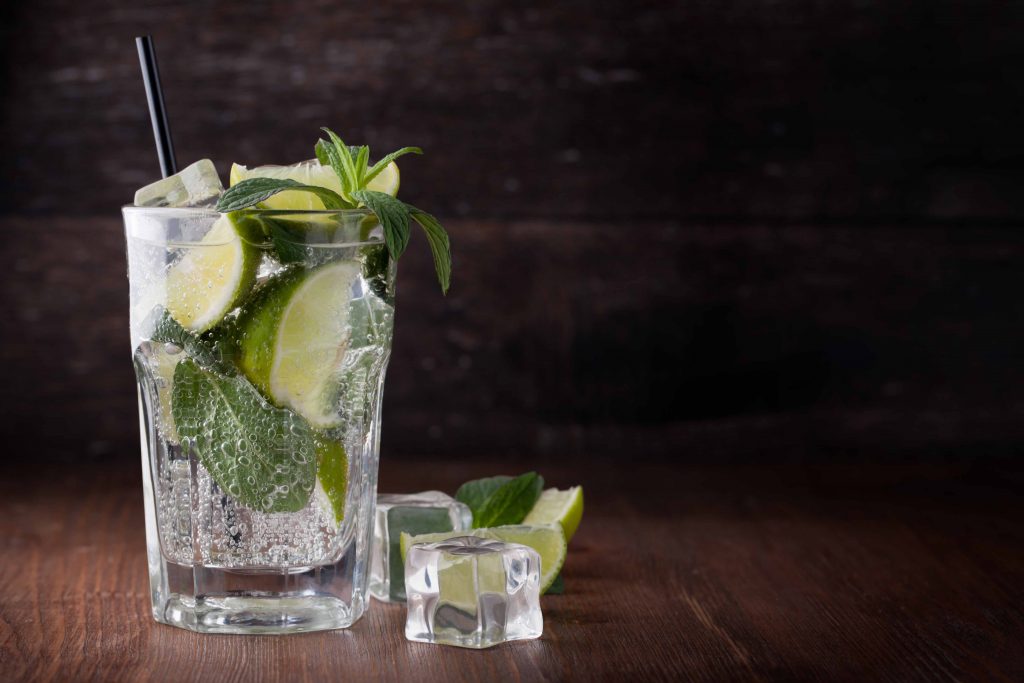 Do you have a cocktail party planned during the summer? Well, you can't decide on a more popular favorite than the classic Mojito. From a rush of energy to a burst of citrusy flavors, this cocktail sure takes the taste buds and the senses on a ride. 
For this cocktail, you have to mix some zesty lime, sugar, rum, and cooling soda. To take your mojito to the next level, muddle the lime before mixing in the rest of the ingredients to really let out the mint's flavor.
It may be a humble backyard or poolside cocktail gathering, but Mojito is enough to transport all your guests to a gloriously sunny beach. 
Old Fashioned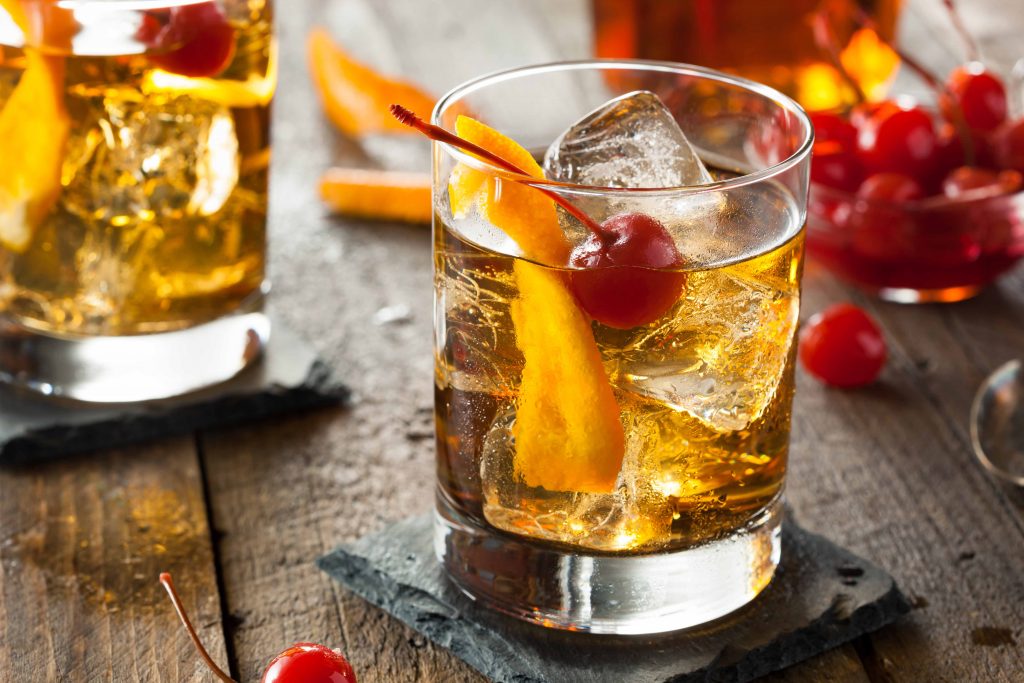 This popular cocktail is true, as its name suggests, so old that its recipe first came into existence in 1880, all thanks to James E. Pepper. A humble bartender in Louisville, KY, he created a unique recipe and took it to New York, where cocktail lovers fell head-over-heels in love with flavors. 
Today, the Old Fashioned has made its permanent place among the list of favorite cocktails in the US. To make this drink, you will need,
2 ounces of rye or bourbon 
A cube of sugar 
Angostura bitters- 2 dashes 
Plain water- a few dashes 
Ice cubes 
Take an old-fashioned glass, and place the sugar cube in it. These glasses have a wider brim with a thick base, making them ideal for effortlessly mashing the ingredients inside. 
Then use the angostura bitters to saturate and water, and muddle until the sugar cube dissolves. Then top the glasses with an ice cube and pour rye of bourbon over it. Some even love a twisted orange peel as a garnish on their Old Fashioned cocktail, so feel free to add it too if you want a bit more drama in your glass. 
With a few stirs and your delicious Old Fashioned cocktail is good to go!
Espresso Martini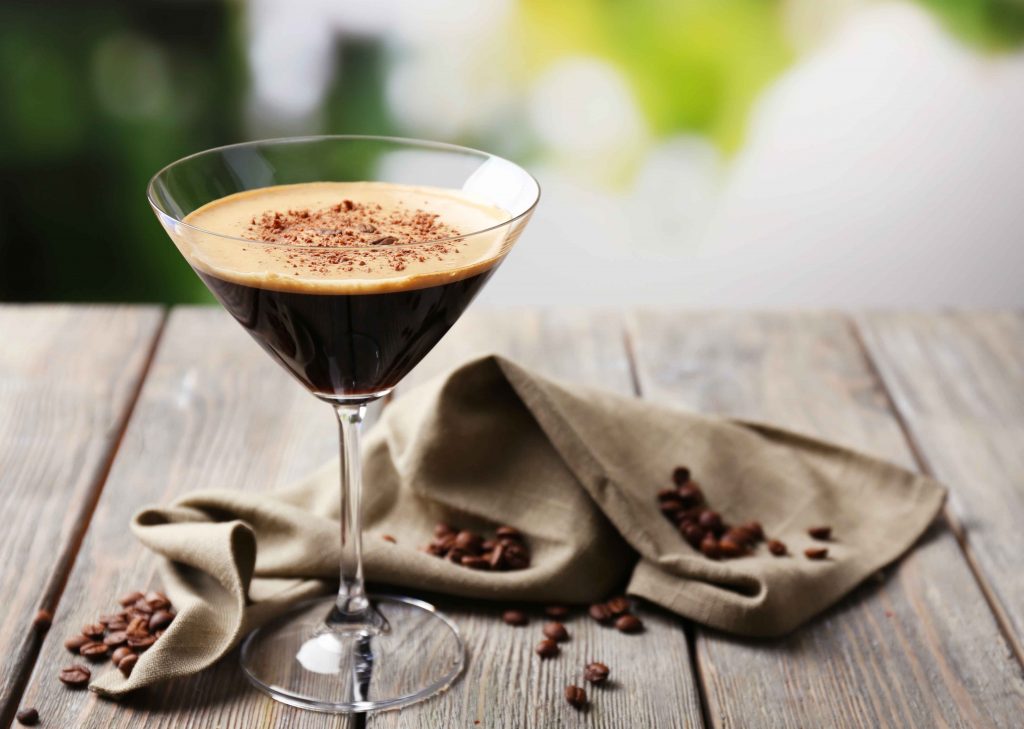 We often need help figuring out whether we've got more caffeine lovers or cocktail lovers worldwide. But thanks to the genius bartender who whipped up the espresso martini, there's a popular cocktail to please people of both categories. 
Yes, the espresso martini is the caffeinated cocktail you must have heard almost everyone rave about. For this cocktail, you will need the following:
Coffee liqueur- a dash 
Espresso- freshly brewed 
Those who love coffee will find this an ideal choice of cocktail. You can garnish it with a dash of instant coffee over your espresso martini. 
Moscow Mule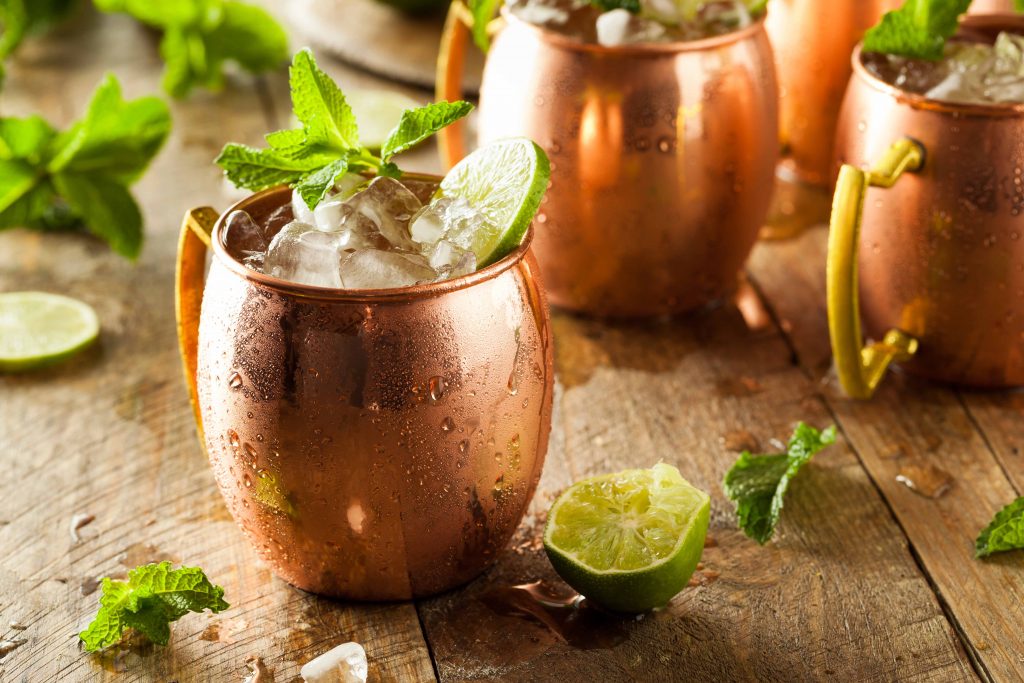 A father-daughter duo living in Russia owned a copper factory. The daughter, Sophie Berenzinski, designed copper mugs that she initially thought would sell like hotcakes. Much to her disappointment, though, the mugs had quite a bit of trouble selling. 
So she thought she'd try it in the US and moved to the big country with more than 2,000 copper mugs accompanying her. In 1941, she met John Martin and Jack Morgan at the Cock 'n' Bull pub. Each of them came with their unique stories of struggle. 
Sophie trying to sell her solid copper mugs
Morgan trying to make Americans love his ginger beer
Martin trying to make his Smirnoff Vodka distillery successful
When the three got together, their genius ideas gave life to Moscow Mule, a cocktail featuring ginger beer and vodka served in unique copper mugs. Could the idea have failed? No chance, at the resounding success and the fact that Moscow Mule is still a favorite cocktail many years later is testimony to their genius. 
For this recipe, you will need the following:
Ginger beer- 6 ounces 
Lime juice- ½ ounce 
Vodka- 2 ounces 
Ice cubes 
Combine in a copper mug for maximum enjoyment! 
Margarita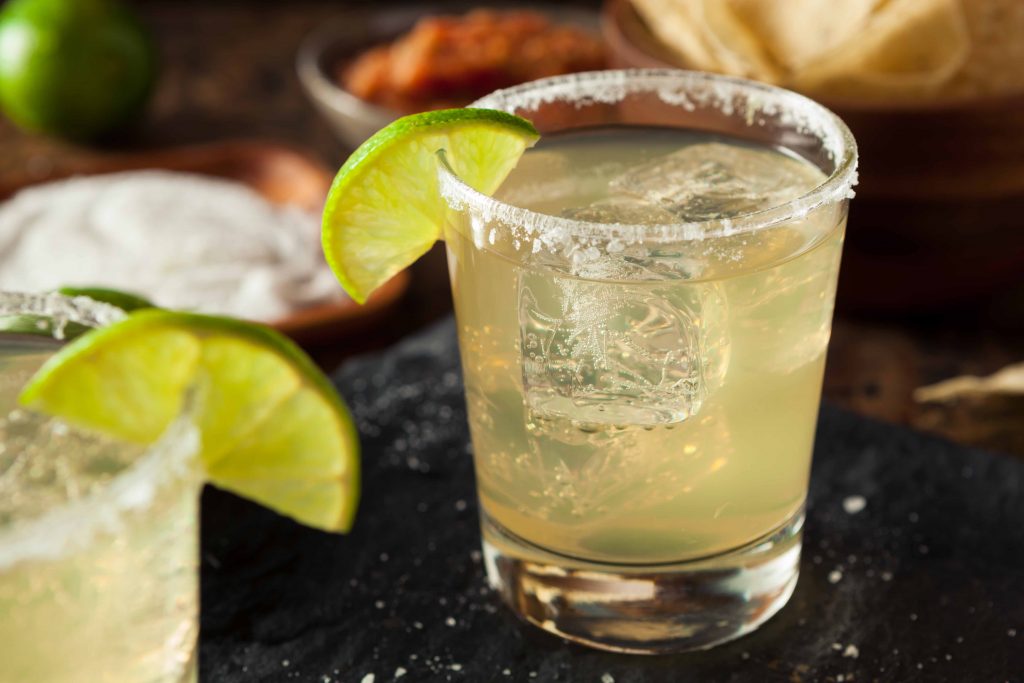 Margarita is hands down one of the most popular and favorite cocktails for as long as we can remember. For the best version of the margarita, you will need the following:
Lime juice- 1 oz 
Cointreau- 1 oz 
Silver tequila- 2 oz 
Salt for the rim 
When making cocktails with fresh juice, most recipes call for it to be shaken. So shake this before you pour over a bed of rocks in a glass lined with salt around the rim. 
Pimm's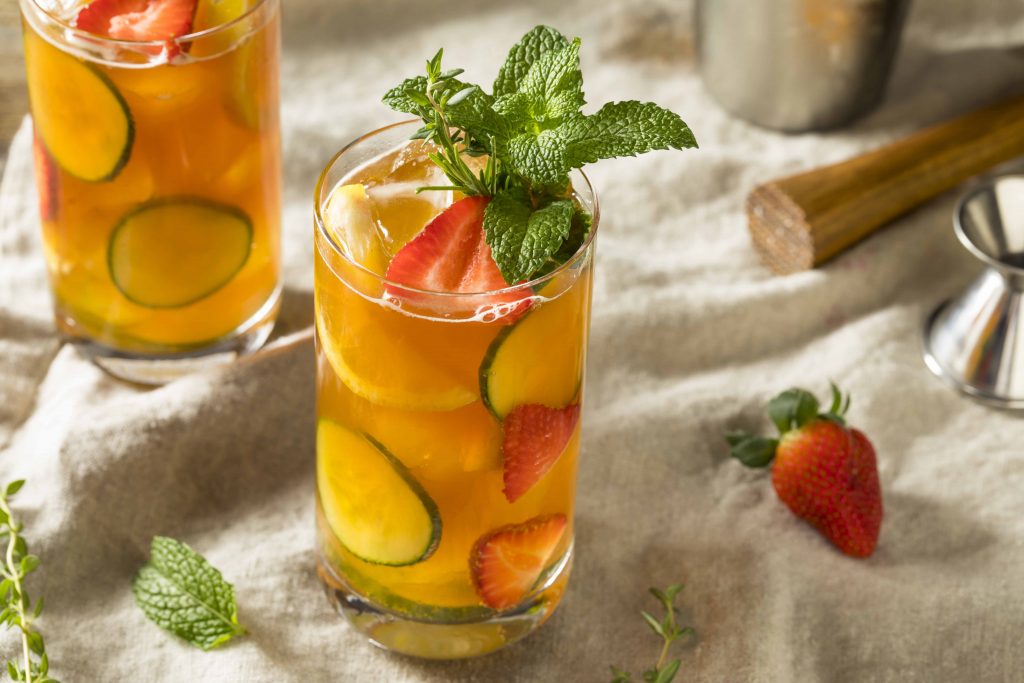 This popular cocktail is a British summertime staple. This gin-based fruity liqueur is created by infusing gin with herbs, fruit, and spices. Traditionally it's mixed with lemonade, strawberries, orange and Cucumber. 
For this recipe, you will need the following:
Pimm's No. 1
Lemonade
Fresh mint leaves
Chopped strawberries
Orange slices
Cucumber slices
These create a refreshing fruity flavor, but if you want to cool everyone down instantly on a hot summer day, you could turn Pimm's into a slushie.
Negroni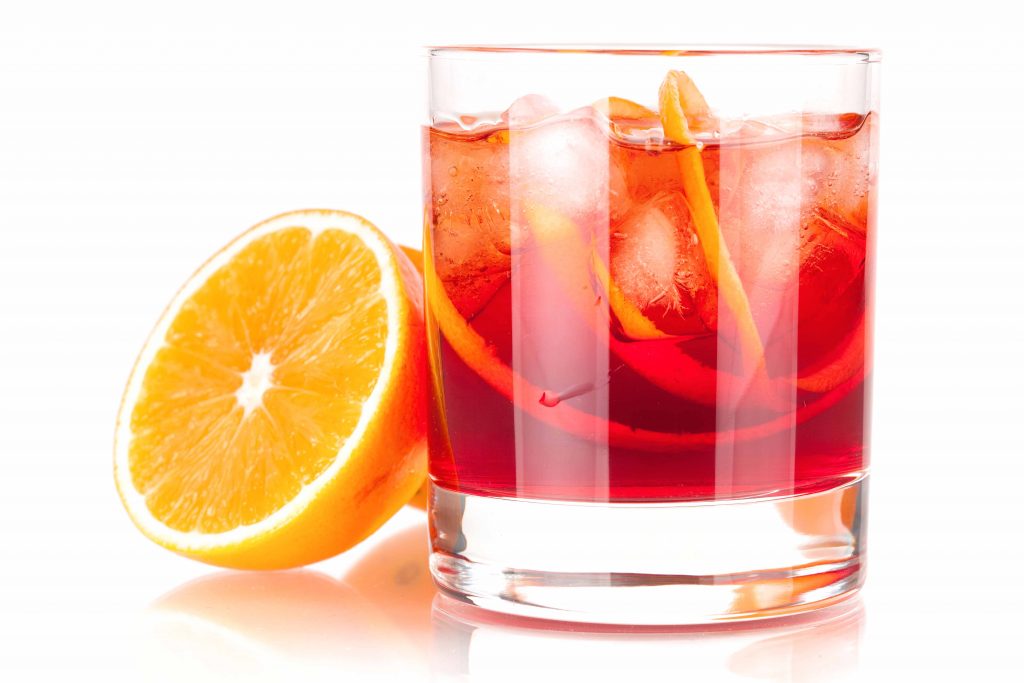 This famous cocktail came from Italy, where its first version was served in Florence at Caffee Casoni in 1919. The story behind Negroni goes back to when count Camillo Negroni wished for something stronger than the regular Americano. 
So he requested the bartender for it and suggested a dash or two of gin instead of soda water to his Americano. The Count also recommends an orange garnish instead of lemon on the new version of Americano. 
When the bartender whipped up what the Count had asked for, Negroni absolutely and irrevocably fell in love with the new creation. Moreover, it bore his distinct ideas of improvisation, and soon the new cocktail's popularity started spreading far beyond Italy. 
It was only right for the family to capitalize on the growing opportunity of the drink bearing Negroni's name, and they soon launched a distillery in Treviso, Italy. They called it the Negroni Distillery, which since then has been producing ready-made versions of one of the most popular cocktails. 
To make Negroni, you will need the following:
Campari- 1 ounce 
Gin- 1 ounce 
Sweet red vermouth- 1 ounce
For this cocktail, it's best to choose an old-fashioned glass with a wide rim. Top it with cubes and pour the sweet red vermouth, Campari, and gin. A good stir will make the delicious beverage come together. 
Try adding an orange twist to the glass for an additional aesthetic element.
Cosmopolitan 
Sex and the City gave us not only a great TV show but also a cocktail that we'll cherish for life. Popular from the 90s, the Cosmopolitan is somewhat a spin on the classic margarita but has not ceased to be a favorite since Carrie Bradshaw popularized it. 
Cranberry juice- .25 oz
Lime juice- .5 oz 
Cointreau- 1 oz 
Citrus vodka- 1.5 oz
You will need a shaker tin for this cocktail. Put all the ingredients into your tin, including ice, and give it a good shake. Once done, you can strain the cosmopolitan into a glass and garnish it with a zest of lime on top. 
Passion Fruit Martini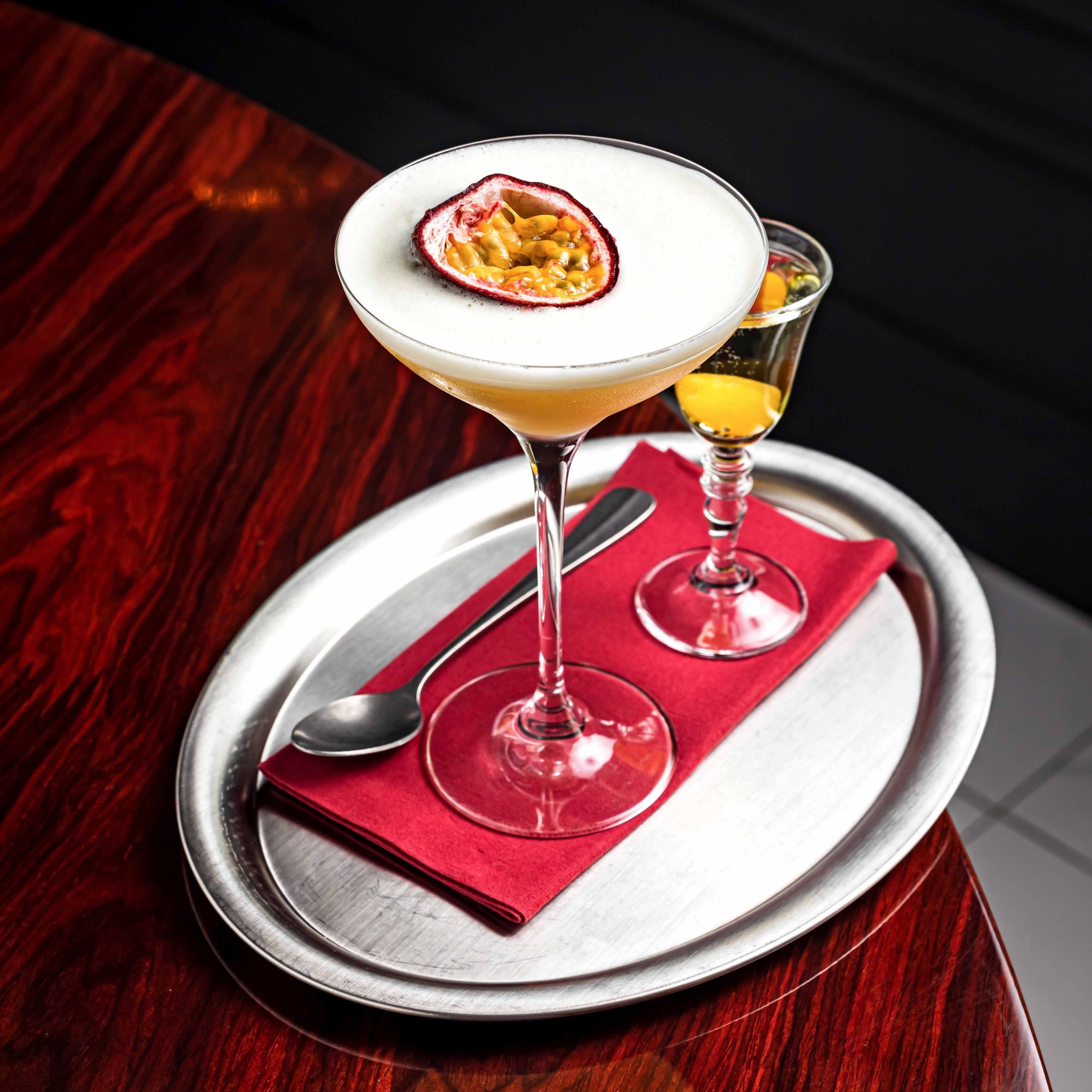 Take your celebrations to greater levels and give your guests more than a euphoric experience. You can count on the universal favorite, the passion fruit martini, to do the job for you. For this popular cocktail, you will need the following:
Passion fruit- 2 ripe and preferably the ones with a crinkly appearance. Halve these 
Passoa- 30 ml
Vanilla vodka- 60ml 
Lime juice- 1 tbsp 
Sugar syrup- 1 tbsp 
Prosecco- to serve 
To create this refreshing cocktail, you must first de-seed the passion fruits. If you can arrange a cocktail shaker for this one, you'll surely end up with a flawless cocktail. Then add the sugar syrup, lime juice, passion, and vodka. 
Once you've shaken these well enough, add a handful of ice cubes to the mixture and shake it well. Then strain into your martini glasses, garnish with prosecco and top it off with half a passion fruit on each glass. This cocktail is too delicious to make it wait, so make sure you're ready to drink it right away. 
Whiskey Sour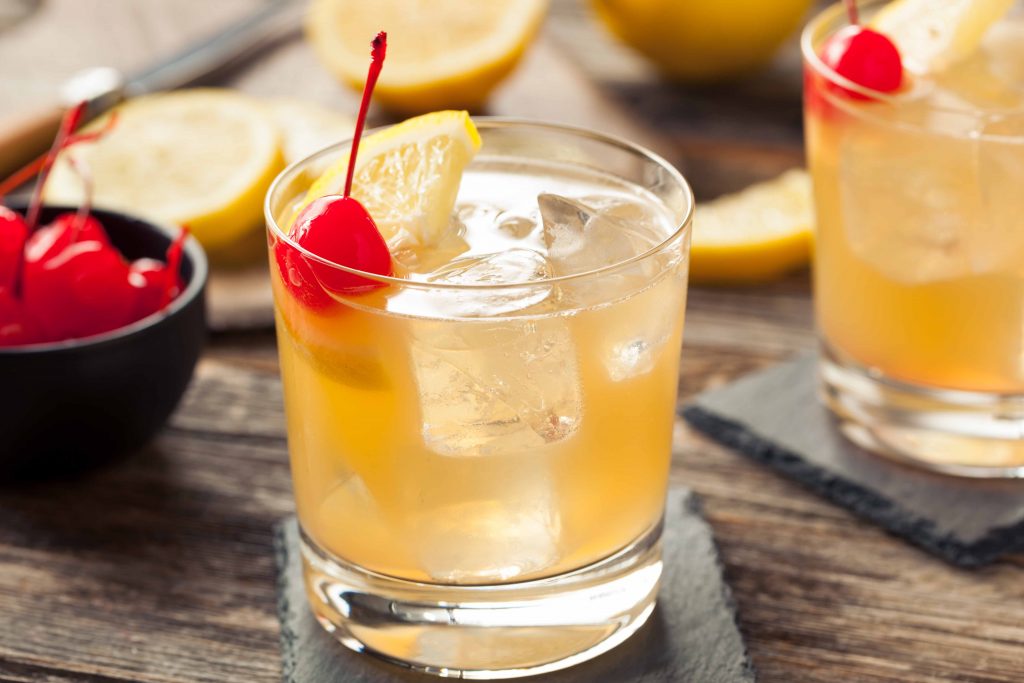 If you ever want evidence of why we call some cocktails an evergreen classic, you only need to learn about a whiskey sour. This cocktail came into existence back in the 1700s in England, all thanks to Vice Admiral Edward Vernon. 
Edward Vernon came up with this concoction of ingredients when he was trying to help his crew heal from seasickness, including scurvy. He aimed to create a diluted beverage that wouldn't intoxicate his crew members and include plenty of lemons and limes to tackle the scurvy. 
Vice Admiral Edward had yet to realize that the cure he was creating would soon become a long-lasting favorite cocktail of the crowds. For this cocktail, you will need the following:
Simple syrup- ¾ ounce 
Lemon juice- ¾ ounce 
Bourbon- ¾ ounce 
Egg white- ½ part but this is merely optional 
You will need a shaker to prepare this cocktail. Add all the ingredients into the tin, including ice, and shake for about 20 seconds till the ingredients have chilled enough. Then strain and pour the cocktail into glasses topped with ice. 
Martini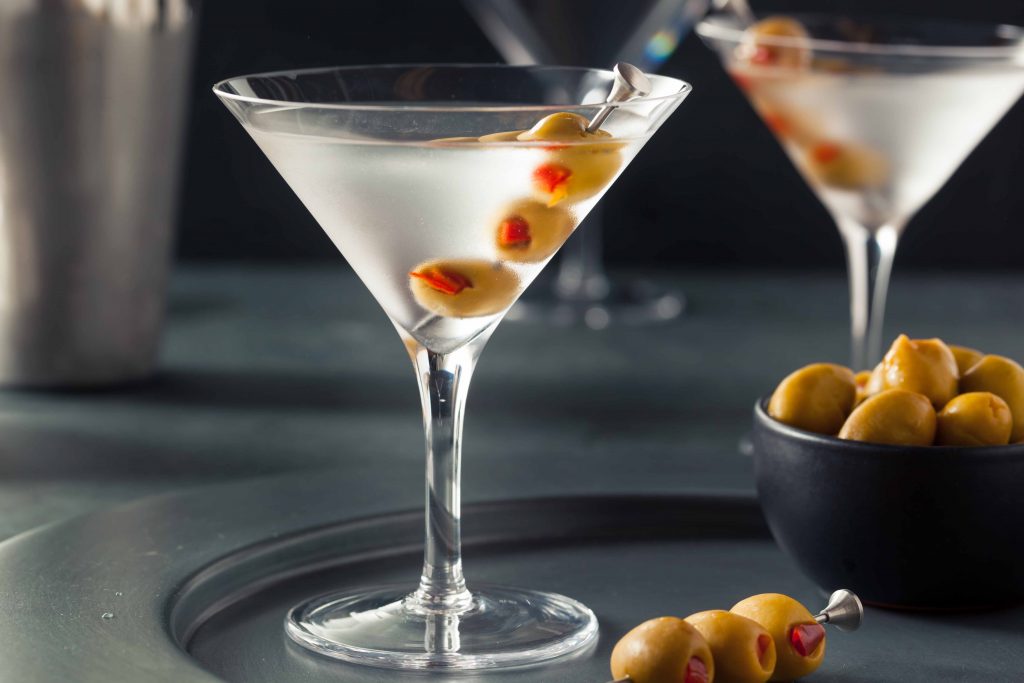 If we ask you to name a person you know who doesn't like Martinis, will you be able to name any? But this is why the Martini ranks as one of the most popular cocktails worldwide. 
In fact, in our experience, we have also discovered that James Bond was wrong about one thing- one can easily drink Martini with either vodka or gin. When you're ready to make your version at home, remember to stir it well before you sip into it. Or stick with the James Bond version and give it a shake.
For Martini, you will need the following:
Dry vermouth- .5 oz
Vodka or gin- 3 oz 
Olive or lemon peel
Take a mixing glass and add all the ingredients to it. Give it a good stir or shake, then strain and pour the Martini into a martini glass. If you're using the lemon peel for the garnish, squeeze its oil into the Martini before decorating it atop the beverage. Otherwise, if you're using olives instead, you can garnish the Martini with whole olives. 
Daiquiri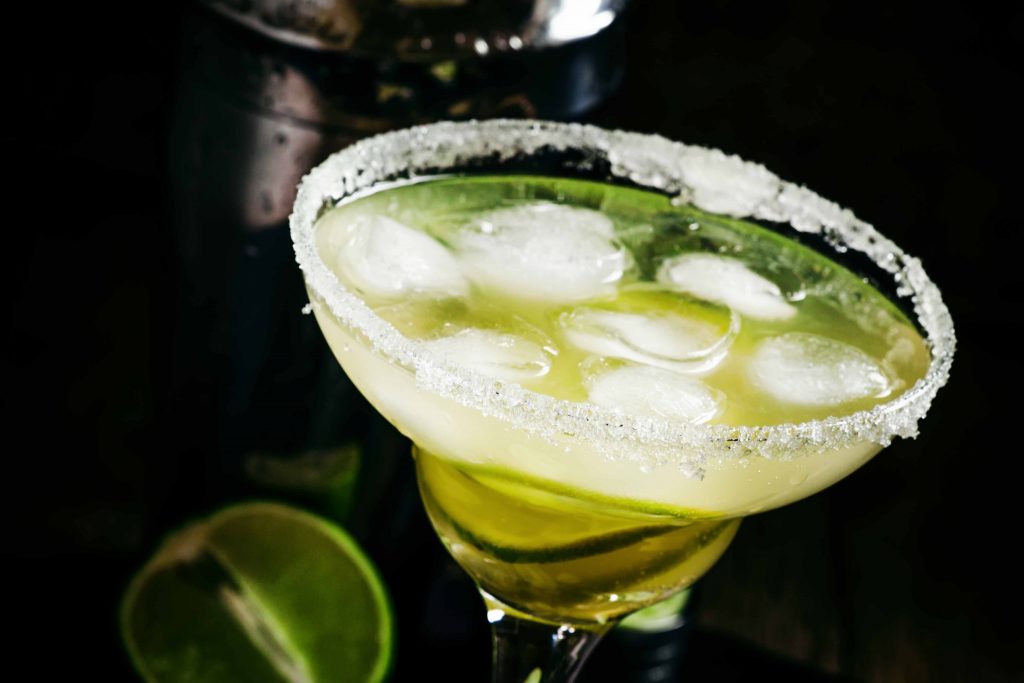 An American mining engineer played an active role during the Spanish-American war. During this problematic time, Jennings Cox, the engineer, thought of a mixture of alcohol and lime to protect the workers against yellow fever. 
Jennings was in Cuba then, in a quaint little village, where he developed the cocktail. He called it the daiquiri, primarily as a cure for the workers caught in the war. He didn't realize back then that this would become one of the masses' most popular and favorite mixtures worldwide. 
For this cocktail, you will need the following:
Lime juice- 1 ounce 
Simple syrup- ½ ounce 
White rum- ½ ounce 
Ice cubes 
Line your shaker and add all the ingredients to it. Give it a good shake, strain the beverage into cocktail glasses and enjoy the healing, refreshing cocktail. Add a twisted lime peel or wedge for more visual interest in your glass, although no garnishing is needed. 
French 75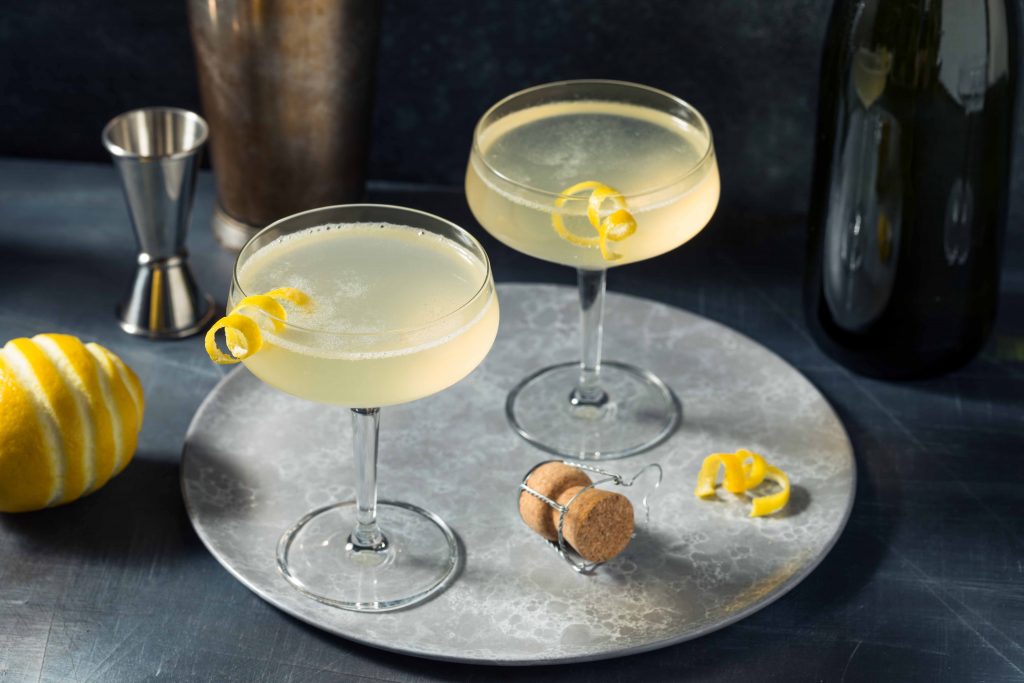 This cocktail is another classic drink that came into existence long ago and has continued to please taste buds for years. French 75 is a cocktail from World War 1, and stories suggest that it earned its name because of the explosive impact of flavors on the tongue. 
They say that the first sip of this cocktail feels as if your tongue has been shelled with a field gun called French 75mm. Those who know a thing or two about ammunition and artillery will know that the French 75mm is a powerful artillery piece indeed. 
For this recipe, you will need the following:
Lemon juice- .5oz 
Simple syrup- 2 dashes 
Gin- 2 oz 
For this cocktail, you will need a shaker. Put the lemon juice, simple syrup, and gin into it and round off with a handful of ice cubes. Then shake the gin vigorously and strain it into champagne glasses. Top this delicious beverage with champagne, sit back, and enjoy each sip like royalty. 
Pina Colada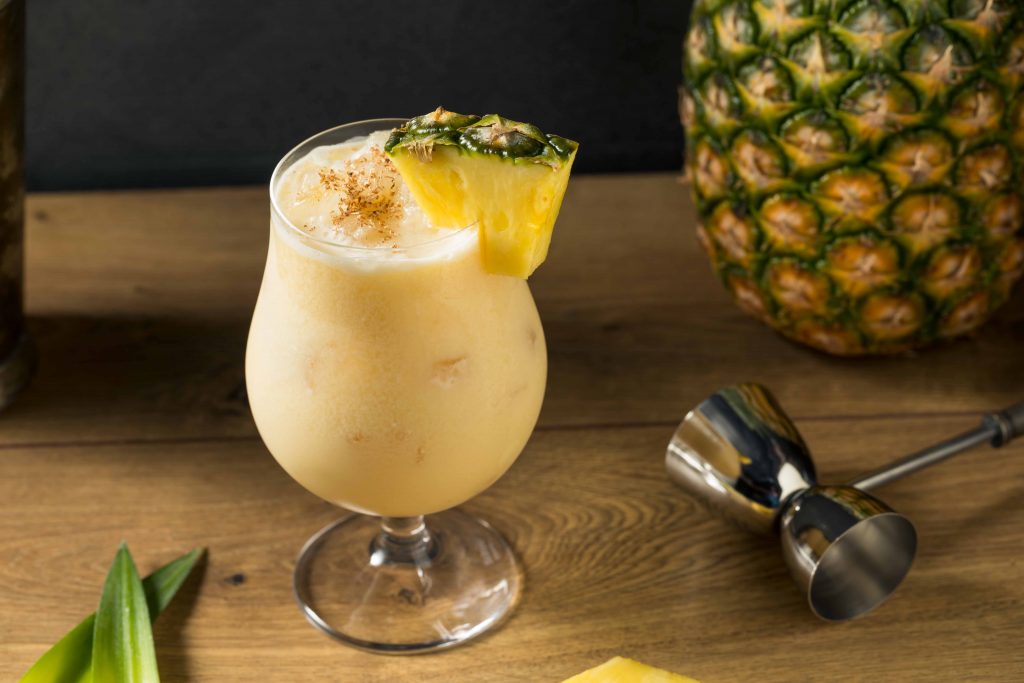 Nothing can give you a taste of the tropics quite like the perfect Pina Colada. This cocktail is a blend of rich coconut goodness, but it becomes even better when you add tangy pineapples and smooth white rum. 
They say Pina Colada is a classic retro drink, and we wholeheartedly agree. So when the summer is in full swing, and you've lined up BBQ dinners in the backyard, picnics at the beach, and other hangouts, this is the perfect drink to make. 
For this cocktail, you will need the following:
Pineapples 
White rum creamy coconut water 
Kitsch umbrellas 
Colorful straws 
Once your pina colada is ready, garnish your glass with pineapple slices, colorful straws, and kitsch umbrellas for a real tropical feel, even if you're sipping it in your backyard. 
Mai Tai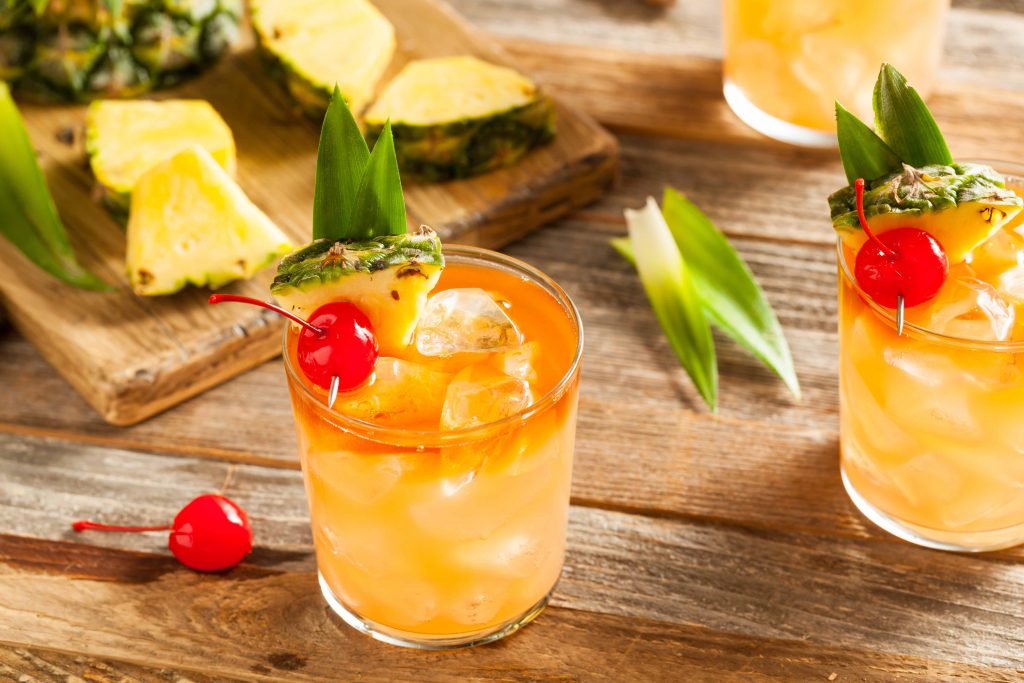 Victor Bergeron was the genius behind the Mai Tai, a cocktail that took after the name of the restaurant owned by its creator. Victor first created the Mai Tai concoction in 1944 in Oakland, mainly when some of his friends visited him from Tahiti, and he wanted a new drink for them. 
When Victor's friends took the first sip of the drink he had prepared, they said it was an "excellent invention." Since excellent means Maitai in Tahiti, it seems right for the cocktail to have been named that. 
To prepare this cocktail, you will need the following:
Dash of grenadine 
Granulated sugar- 1 tsp 
Almond extract- 1 drop 
Fresh lime juice- 1 tbsp 
Cointreau – ½ ounce 
Orange juice- 2 tbsps 
Amber rum- 1 ounce 
Dark rum- 1 ounce 
Add all the ingredients except dark rum when you've lined up the cocktail mixer for this beverage. Add a handful of ice cubes and shake vigorously for 20 seconds. Then strain the mixture into a highball cocktail glass and top it with ice. Then pour the dark rum into it and enjoy the delicious Mai Tai cocktail leisurely. 
Kegging Cocktails
There's a new way to serve cocktails that is also growing in popularity. That's kegging cocktails! Batching cocktails ahead of time can make hosting a party even easier.
And if you own a bar or restaurant, you can serve these popular cocktails faster and drastically improve your profit margins by kegging them. We make serving COCKTAILS ON TAP easier than ever with our self-serve tap system that was designed by restaurant owners and perfected in real restaurants.

Want to know more about how a self-serve tap system could help your business? Reach out to the team at Pourtek and find out how you can take your business to the next level by serving cocktails on tap.